Some BAGTAG users have had trouble updating their BAGTAG through the KLM application. Unfortunately, KLM is experiencing some technical issues and this means that some BAGTAG updates aren't running correctly whilst the BAGTAG connection and setup are well-functioning. Of course, we are doing everything we can to assist KLM in finding a solution and do let us know in case you run into any problems.
*Please note that you are only able to use the BAGTAG on bookings with a single passenger. KLM and BAGTAG are working hard on making the BAGTAG functionalities available to all users in the short-term.
KLM offers its passengers the option to use BAGTAG's electronic bag tag. The device is designed to replace traditional paper luggage tags and it features an electronic display that can be set up using a Bluetooth connection.
The BAGTAG is a permanent solution that can be used again and again. There is no longer a need to obtain a luggage tag at the airport that is made of wasteful thermal paper. Besides, you as a passenger are given full control over the baggage check-in process. You can arrive at the airport fully prepared and simply drop off your luggage. At airports with a two-step self-service bag drop, you can even skip the queues at the check-in kiosk.
Step 1 - Before your first flight with a BAGTAG
First register your BAGTAG in the BAGTAG app. The BAGTAG app can be downloaded in both the Apple App Store and Google Play Store. Please make a note of your login details. You will need these later inside the KLM app to setup your BAGTAG.
To provide passengers with the best possible check-in and boarding experience, you are encouraged to upload your passport details in the Flying Blue portal of the KLM website. By doing this, you will be checked as little as possible during the entire check-in and boarding process.
To setup the BAGTAG for your journey, please use the KLM app to check in for your flight as you would normally do by pressing the "check-in is open" button.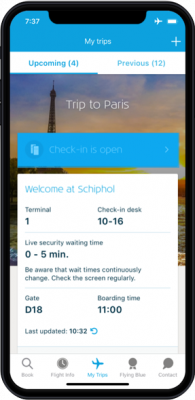 After having checked in for your flight through the KLM app, you can now update your BAGTAG. Please press the 'More about my flight' button located in the 'my trips' section of the KLM app. In the screen that appears, select the 'update BAGTAG' option.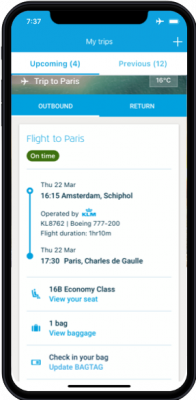 To set up your BAGTAG, you have to login using the account credentials of your BAGTAG account. You obtained these credentials when registering your BAGTAG in the BAGTAG app.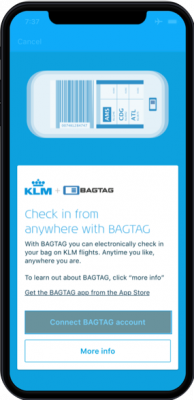 First, click on the "connect BAGTAG account" button. Next, the KLM app will ask you to fill in your BAGTAG account credentials. See the image below.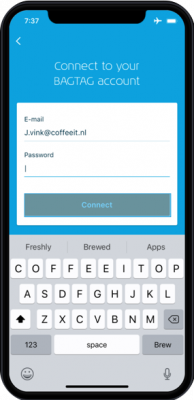 After filling in your account credentials, the KLM app will ask you to press the button on your BAGTAG once, after which it will update your BAGTAG. After the BAGTAG has been updated, you are ready to go. Enjoy your flight!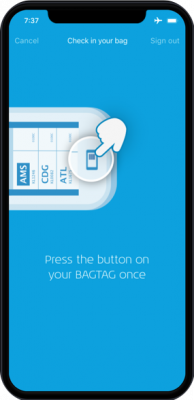 As a BAGTAG user, you arrive at the airport fully prepared. You only have to drop off your luggage. At Amsterdam Airport Schiphol, as a non-priority passenger, you will be directed to the shortest self-service bag drop. As a priority passenger, you can drop your luggage at the SkyPriority check-in area at Schiphol.
On all other stations, BAGTAGs are accepted at self-service bag drop machines and at manned check-in counters as well.
You can use your BAGTAG on most KLM destinations, but there are a few exceptions based on the departure location. Because of local or national airport and government regulations, BAGTAGs are not accepted on flights departing from the following airports:
| | |
| --- | --- |
| Germany: | Dresden, Hamburg |
| Switzerland: | Zürich |
| Great Britain: | Bristol, Cardiff, Durham Tees, Humberside, Leeds Bradford |
| Italy: | Catania |
| Northern-Ireland: | George Best Belfast City |
| Austria: | Graz |
| Poland: | Gdánsk |
| Russia: | Pulkovo |
| Spain: | Málaga |
| Sweden: | Vaxjo |
| Brazil: | Fortaleza, São Paulo, Rio de Janeiro |
| Costa Rica: | Liberia |
| Ghana: | Accra |
| Nigeria: | Lagos |
| Portugal: | Lisbon, Porto |
| Thailand: | Bangkok |
| Turkey: | Istanbul |
| Singapore: | Changi Airport |
| South Africa: | Cape Town, Johannesburg |
Although 136 out of 164 stations are eligible for EBTs already, KLM and BAGTAG are working hard on making all destinations available to BAGTAG users in the short-term.